TENGA EGG SPHERE
EAN Code4560220556528
List Price (GST Inclusive)
S$7.90
Surprise when you open the cap! The latest Ona-Cap is here!
Super soft material, new sensation from this onacap.
When you open the egg container, you will find these cutie ona-egg sitting there and waiting for you. You might think: "Can this egg be used for masturbation?" Totally out of expectation, this softy material can fit essentially any size and give you endless sensation!
Like the soft feeling of a condom, together with your warmly hand, you can just enjoy your moment anywhere at anytime. Nevertheless, each of the different model gives you different sensation.
Open it now and get the ultimate surprise. Feel this new popular item by Tenga. There will be no more cup or strange holes in your room!
EGG-017 | SPHERE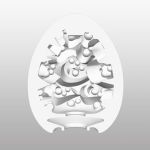 Instruction
1) Peel the package film off the egg along the perforations.
2) Remove the egg cap, take out the egg white and add the bundled lubricant.
3) Insert your penis carefully.
4) Gain pleasant and most excited feeling by twisting and stroking inside the egg.
5) After use, put the egg white back to the egg cap and dispose it with regular trash according to the waste treatment regulation of your local residential area.
Caution
1) This product is a disposable and not intended for repeated use.
2) DO NOT share this product with any other person.
3) DO NOT use when you have open sores around your genital area.
4) DO NOT place any object inside the egg for use.
5) DO NOT heat or cool the egg for use.
6) If you feel it is too exciting or feel dizzy during use, stop using immediately.
7) This product is odorless and white in color. If your TENGA Egg has any foul smell, discoloration, foreign objects, or the seal has been tampered with, please stop using and contact us.
*Use a condom only once. Non-vaginal use of condoms may increase the risk of them slipping or being damaged.
*No method of contraception can provide 100% protection against pregnancy or sexually transmitted infections (STIs) including AIDS.
Sampson user comments on this product: