TENGA EGG Lotion Water-based Lubricant
EAN Code4560220550762
List Price (GST Inclusive)
S$12.90
Smooth~ & Small~
EGGL-001 | EGG LOTION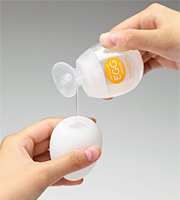 All purpose lubricating lotion that can be grabbed by one hand!
*) Silky soft and non-sticky.
*) Long lasting lubricating lotion with moisturizing effect.
*) No added colorant or fragrance for more natural feeling.
Made in Japan
*Use a condom only once. Non-vaginal use of condoms may increase the risk of them slipping or being damaged.
*No method of contraception can provide 100% protection against pregnancy or sexually transmitted infections (STIs) including AIDS.
Sampson user comments on this product: